Humble Bundle er ute med en ny LEGO-bokpakke, tilgjengelig i en begrenset periode (varer i 9 dager til, i skrivende stund):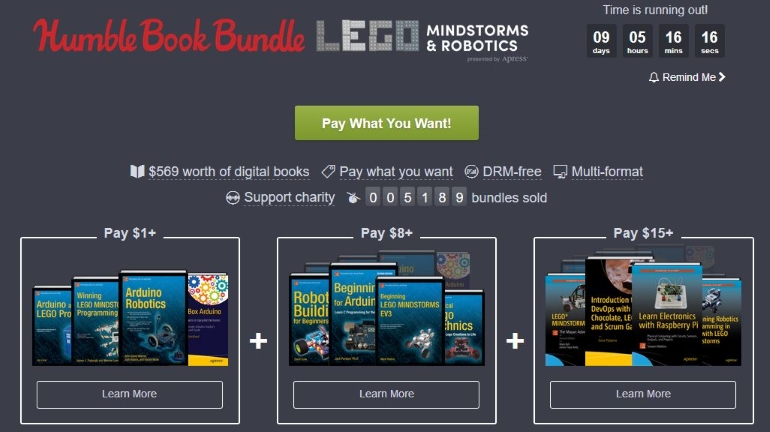 Er en del snacks her i digital bokform for de som ønsker å lære seg mer om Technics, Mindstorms og / eller Arduino i LEGO-prosjekter, samt mye mer.
Innhold:
Betal $1 (eller mer - valgfritt):
· Arduino and LEGO Projects
· Winning LEGO MINDSTORMS Programming
· Arduino Robotics
· Junk Box Arduino: Ten Projects in Upcycled Electronics
· Beginning Arduino Programming
Betal $8
· Robot Building for Beginners, Third Edition
· Beginning C for Arduino, Second Edition
· Beginning LEGO MINDSTORMS EV3
· Practical LEGO Technics
· Arduino and Kinect Projects
· LEGO Technic Robotics
Betal $15
· LEGO MINDSTORMS EV3
· Introduction to DevOps with Chocolate, LEGO and Scrum Game
· Learn Electronics with Raspberry Pi
· Beginning Robotics Programming in Java with LEGO MINDSTORMS
· Winning Design! (2017)
Pakken kan kjøpes her.
NB: Tidsbegrenset tilbud. Det er i skrivende stund 9 dager igjen av kampanjen.